666666pxe/BqYrtnCPfn01 <hero description="Hey, 'decided being trapped at Hakurei wasn't so fun, so I turned my luck around. Now I'm here, not far from Gensokyo perhaps. Follow my trail. You'll never catch me." imagename="" cropposition=""></hero>
Introduction
Hey, 'decided being trapped at Hakurei wasn't so fun, so I flipped my luck. Now I'm here, not far from Gensokyo perhaps. Follow my trail. You'll never catch me.
Log of the escaped amanojaku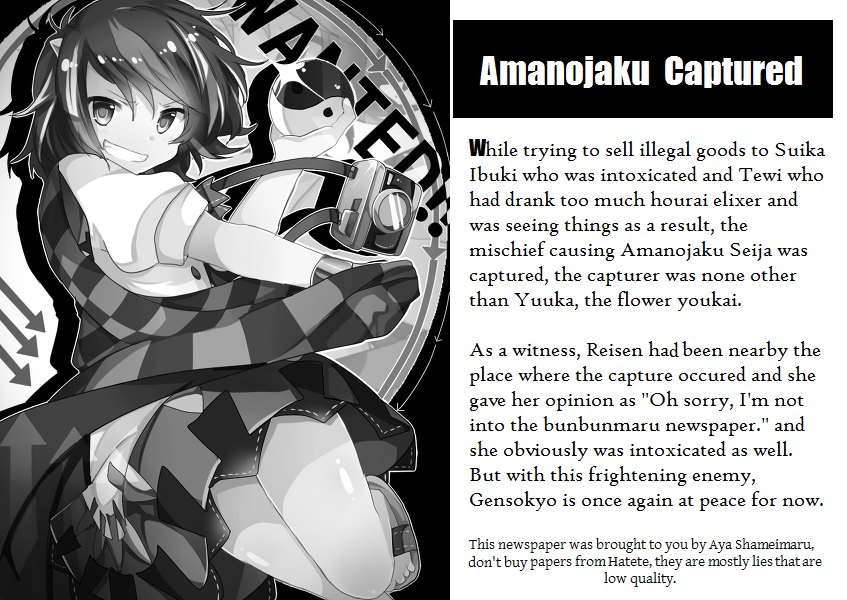 Pitiful tengu, they even wrote that with me Gensokyo was at peace without noticing.
Recent logs
I'm in love with you.
created by Sparkystream

| | |
| --- | --- |
| New page: | I am in love with you. |

This is the flag my wall speaks of
comment by Sparkystream

| | |
| --- | --- |
| | ...or something... It's after a complaint about Kirby banning me... It's the terror of knowing what this world is about.   |
Photos and videos are a great way to add visuals to your wiki. Find videos about your topic by exploring Wikia's Video Library.